all Vendors
Floor plans for
Babylon Fisherman Flea Market
three 6ft and one 4ft tables left only last chance to get in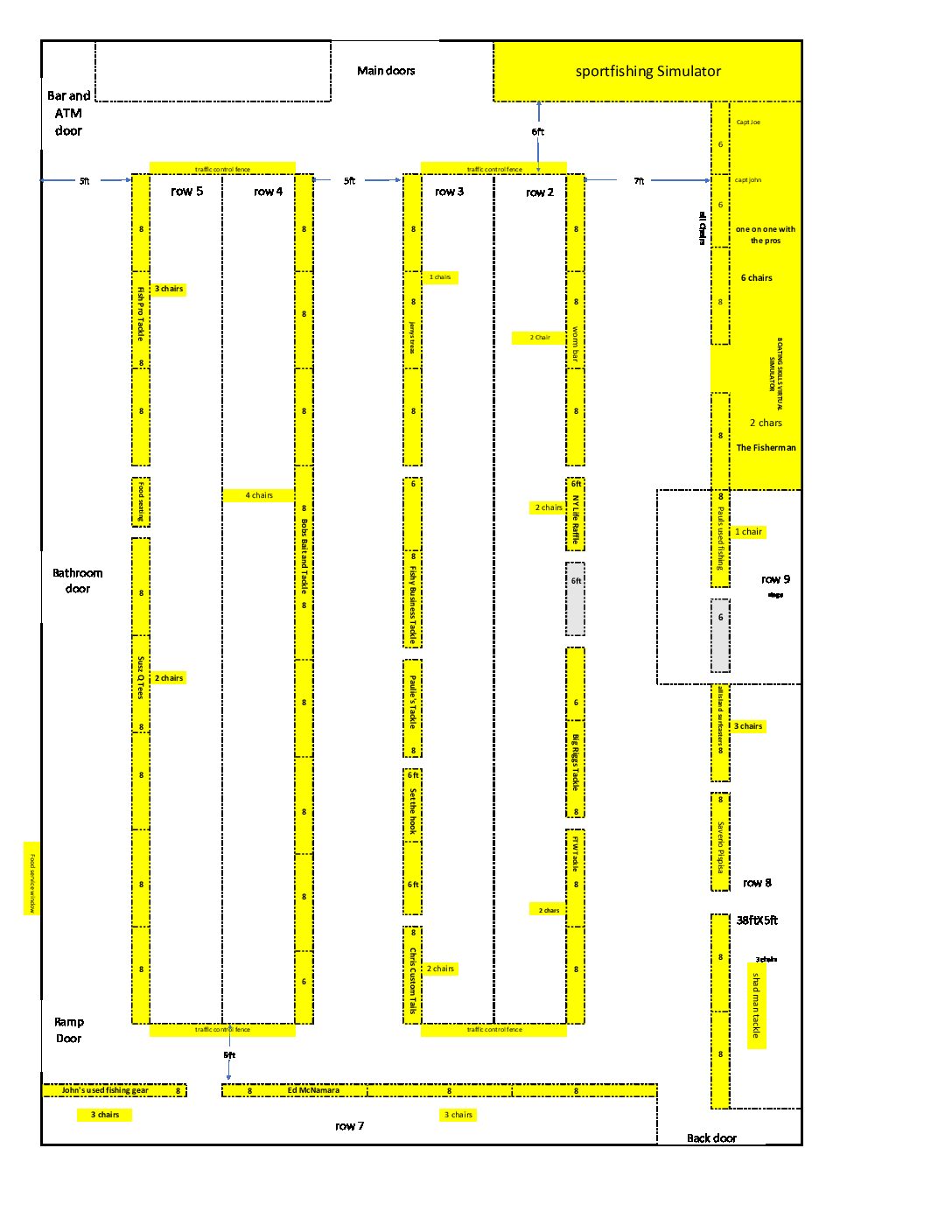 Dear vendors
With the New Floor Plan using the amount of 8 ft and 6 ft table. our table space will be the same as the 2022 flea market 50 tables.
Question: When can we start renting table space?
Answer: NOW
Question: why has the price per table gone up?
Answer: the larger venue and the added Advertising, and printing cost has gone up.
Question: if i rent more then on table does the price per table change?
Answer: No table cost will not change.
Question: I was a vendor in 2022 will i have first pick on table I wont for 2023?
Answer: that is a Yes and No answer.
YES, you will have 1st chance before I open it up to new vendors.
NO, Table spots are 1st ones to Rent tables gets 1st picks (have to receive full payment) will only except Phone table holds for 10 days if payment is not received.

Online payments will be available. Now
Question: Will you have the handouts again advertising the Flea Market?
Answer: Yes Staring January 15th at the Striper day show i will have them for you. my fishing simulator will be located at the gym stop by and pick some up. I will also have handouts for the Freeport Fishing and Boating Show.
My Babylon Fisherman Flea market this year is on Sunday March 19, 2023, will be a new location a much bigger that the old location.
American Legion Babylon Post #94
Hours from 8 am to 3 pm
Set up starts at 6 am see Vendors Agreement
TABLE SPACE will be priced at $90.00 per 8 ft table $80.00 per 6 ft tables.
do to advertising cost and venue cost increases I must charge more this year for TABLES
expected about 800+ people to attend event
new TO THE 2023 FLEA MARKET
on site ATM machine AVAILABLE
WE WILL HAVE a ROUND TABLE FISHING Q & A with the Pros. STATING AT 1 pm FOR THE AFTERNOON CROWD
ANY QUESTION YOU MAY HAVE CONTACT JOE FELICCIA
Current booking the Freeport fishing and Boating Show for February 18th and 19th 2023
See https://www.freeportfishingshow.com/info/ for updated information
Also
Long Island Boat and Fishing Show 2023
At The Nassau Coliseum
March 10-12, 2023
Website general information: https://nyboatshows.com/nassau/
Fishing Equipment Vendors information: https://www.longislandboatandfishingshow.com/
Join our Vendors Mailing list so you are one of the first to receive information about our Flea Markets and expos